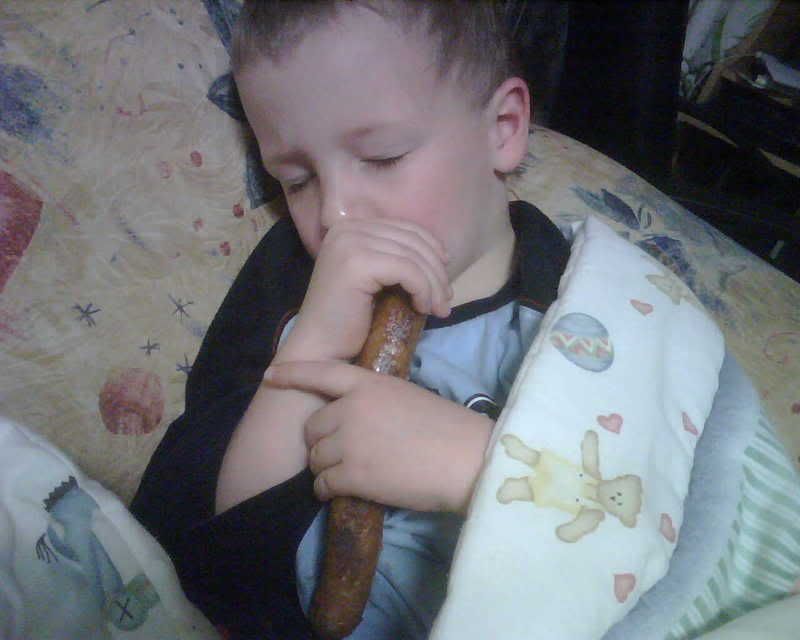 My son appreciates the finer things in life. He likes the feel of his Nanna's special shirt, his sister's pink tracksuit pants, 'Ben' the toy camel, and a couple of very worn pajama pants he likes to carry around. He always has something in his hand, and often I don't notice. I don't think anyone has made a list of the strangest things whispered in church but I definitely would have made the list last week when I had to say, "Please don't eat the toothpaste" as my son had somehow brought a tube of toothpaste to church without me noticing.

He always has a little treasure or two which bring him comfort and in times of sadness or weariness he holds them close. Sausages are not usually included in that assortment but as you can see in the photo above after a late night snack, a cold sausage has a certain feel about it I am yet to appreciate.

As I write this, it is ten weeks until Christmas. Before I get caught up in the search for the perfect assortment of presents I want to read and keep in mind the real reason that we celebrate.

After Jesus was born, angels appeared to the shepherds telling them their savior had been born. They witnessed an amazing sight and rushed to Bethlehem to find the baby just as they had been told. Then they shared this awesome news with everyone they could. Luke records that "all who heard it were amazed at what the shepherds said to them. But Mary treasured up all these things and pondered them in her heart." (Luke 17:18-19)

I can't imagine the wonder and mystery of seeing the little baby that was also God and one day would be the saviour of the world. I don't want to just marvel at the miracle, or be reminded on Christmas day what I had been missing all year, I want to treasure these things in my heart.

I am inviting you to join me. It takes just a few minutes a day to read to read a chapter and if we read one chapter each day until Christmas day, we can just about read through Matthew, Mark & Luke!

Anyone up for it? Lets begin with Matthew. The last chapter you read will be Luke 24 which includes the account of the disciples on the road to Emmaus. It is my prayer that as you ponder the wonder and person of Jesus that your hearts will burn within you as you realise anew that the God of the universe walks beside you.